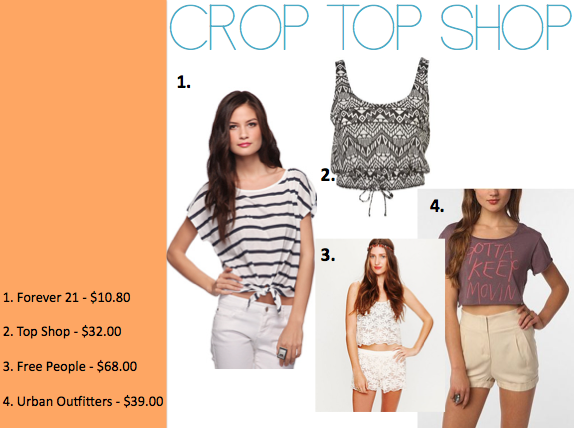 Show a little skin this spring with one of my favorite pieces of clothing: the crop top! Crop tops are everywhere this spring and with so many ways to wear them, its impossible to only have one. They come in great colors, different styles and are completely inexpensive.
One of the great things about crop tops is that they allow you to be as bold or as conservative as you want. Since they come in various lengths it is easy to adjust them to your preferred look. If you want to go for a more conservative look find tops that hit right under your belly button or layer your crop top with a cute tank underneath. If you don't mind showing some skin, look for tops that cut off right above your belly button. Combine them with a great pair of denim jeans, bright colored pants, or a long skirt for a look that will turn heads all over campus!
So remember, crop tops look good with anything you combine them with and are the perfect spring item that gives you the freedom to portray your unique sense of style!
Fashion tip: Pair crop tops with high wasted pants to not show too much skin and also enjoy the relaxed feel of crop tops.
Reylisa Anico is a junior at Fordham University where she majors in Psychology and minors in Business Administration. Reylisa believes that fashion is the ultimate form of expression. She creates her own style by observing the greatest runway of all; the streets of New York City. Combining styles and making them your own all while trying to keep a happy wallet is a challenge; but somebody has to do it.