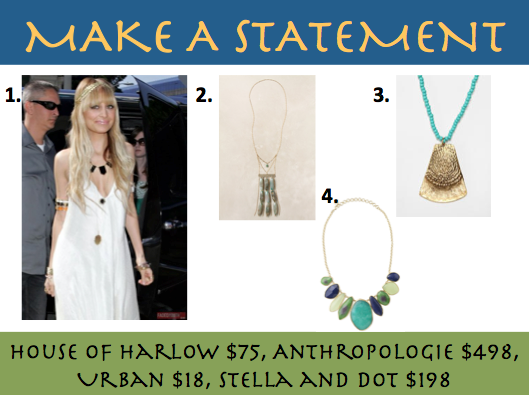 I
'
m
a shopaholic. According to my mom, its not a real disease,
but my checking account begs to differ. Unfortunately, I can
'
t
buy a new outfit every day of the week. I hate re-wearing the same outfit, but let
'
s
face it: it happens. At least I have the good sense not to outfit repeat over Facebook. If you
'
re like me and feel like you have NOTHING in your closet, a quick fix is to spice up those old outfits by adding some fun jewelry!
Statement pieces, like this black leather necklace from House of Harlow and the beautiful multicolored piece from Stella and Dot, can breathe life into an old wardrobe. They can also add a funky flare or tribal touch to your outfit, making you look fabulous in one easy step.
Maygan Anthony is a sophomore at Fordham University, majoring in International Political Economy and Arabic. Originally from Dallas, Texas, Maygan has had a love of fashion and writing from an early age. She finds inspiration from fashionistas like Coco Chanel and Vera Wang, and enjoys creating high-end looks at a low price.